01. Resilience through Economic Empowerment and Climate Adaptation, Leadership, Learning-REE-CALL 2021 Project:
2. Income Generating Programme-IGP
Project duration: Continuing since 1990 Funding source: Palli Karma Sahayak Foundation (PKSF)
Focused area: Poverty reduction through employment creation, reduce gender discrimination and women empowerment.
Stakeholders:Poor, hardcore poor and marginal farmers.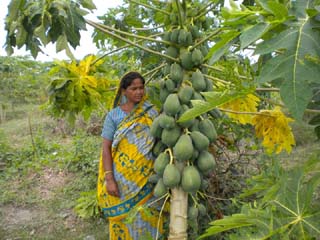 Covered beneficiaries: Total 20706 families have been benefited from the project where 20424 female and 282 are male. All the beneficiaries were organized into 976 groups; each group was formed by 20-25 members.
Covered area: The project has been covering 156 villages of 26 unions under 6 upazilas of Sirajgonj and Tangail district.
Major components: Group formation, employment creation through income generation activities, savings fund creation, awareness raising and capacity building and micro-credit support for IGAs.
Change/Result:
A major part of the target beneficiaries have crossed the ultra poor level, been uplifted as small micro-entrepreneurs.
Increased their health, nutrition and livelihood status than pervious time
Change occurred in living standard and taking daily meals with leafy vegetable, small fishes, eggs and meat
Each family has owned number of poultry, cow, goat
Tubewell and latrines are installed and used.
03. Enrich Programme

Project Duration: 2012- 2015 Funding agency: PKSF
Focused area: The project focuses on livelihoods, food security, education and health
Stakeholders: Male, female and children of the community
Covered area: Ghorjan union at Chowhali inSirajgonj
Major components: Primary Health Care, Education, employment opportunity, livelihoods improvement, tubewell and latrines installation, pond sand filtering and infrastructure.
Outcomes/results: To be updated
04. Project Name: (PCSV): Promoting Climate Smart Villages for improved food & nutrition security in Char and Haor regions, the two most vulnerable fragile eco-systems of Bangladesh.
Project Duration: From September 2015 to August 2018
Funding Agency: BMZ & Welthungerhilfe (WHH)
Focused Area: Disaster Risk Reduction (DRR), Climate Adaptive Technology, Livelihood & Nutrition
Stakeholder:
Poor & extreme poor families, mother & child, Local government, District & Upazila Administration including Government Line Department & also Donor part
Covered beneficiaries: 5147 (Female 4187 & Male 960)
Covered Area: Bagutia, Omarpur, Sthal & Sadiachandpur unions in Chowhali Upazila under Serajgonj District.
Major Component:
Self Help Group Meeting (SHG), VDAP ( Village Development & Adaptation Plan), FFS (Farmer Field School), Demonstration Plot, Adaptation technologies, Homestead gardening, PLA (Participatory learning & Action) session, ANC & PNC Cheek up, Child screening, Nutrition camp, Food, Nutrition & Agriculture Fair
05. Project Name: School Feeding Programme in Poverty Prone Areas"
Project Duration: May 2015 to June 2019
Funding agency: GoB and WFP
Focused area and Major Components: Chauhali Upazila under Sirajganj district.
High Energy biscuit distribution
School Monitoring
Vegetable gardening
SMC activation
Khude doctor activation
Student's home visit
Courtyard meeting
Mother's gathering
Stakeholders:
District Primary Education Officer, Upazila Education Officer, School Management Committee, Students and Parents.
Covered beneficiaries:
29826 Students (14246 Boys and 15580 Girls) of 132 school.
Covered area:
132 schools 7 unions of Chauhali upazila at Sirajganj disctrict.
Change/Result:
Increased enrollment of pre-primary and primary school
Increased attendance rate of Schools
Reduce dropout rate in project areas
Improved learning ability of the primary school children through deduction of micro nutrient deficiencies
Enhanced GoB capacity to implement school feeding Programme efficiently and effectively
06. Project Name: Child Centered Climate Change Adaptation Project (CCCCA):
Project Name: Child Centred Climate Change Adaptation Project (CCCCA)
Project Duration: 1st August, 2017 to 31st July, 2021
Funding agency: Australian Government & Save the children
Focused area and Major Components:
CCA project mainly focus on Climate change adaptation & Disaster risk reduction through inclusive engagement and empowerment of children, youth and community.
Major components are
Awareness event on Climate change adaptation with children, youth and caregiver
Children club establish for dissemination Climate Change Adaptation information
School base Green Club Formation for clean & green environment
Training conducted with youth on DRR and CCA and eco-friendly life living
Community Risk Assessment for Disaster risk reduction Action plan
School Safety plan prepare and implementation for education in emergency
Conduct regular meeting with UDMC, UzDMC, DDMC for more functioning to address CCA issues in their action plan.
Stakeholders:
Children
Youth
Parents/caregiver
Green Club member
Child with special need
People with special need
Secondary school
SMC members
Union disaster management committee members
Covered beneficiaries: Total 2136 beneficiaries have been benefited through CCA intervention. Most of them are school children including person with disability as well as community people also directly involved with our program in some proportion.
Covered area:
Koijuri union in shahzadpur Upazila under Sirajganj district.
Change/Result:
100 Green club member are doing small scale activities in their own school for mitigate climate change , safe, clean & green environment
120 child & youth club member are initiating awareness raising activity in their community
School are going to prepare School safety plan
Students are contributing through saving money in oxygen bank for greener school.
Community have risk reduction action plan through CRA
Schools and community have well adapted with Climate change negative impacts.
Green Dream of Koijuri School & College
Now we are very happy to Save the Children International (SCI) and Manab Mukti Sangstha (MMS) for involving " Child Centred Climate Change Adaptation Project's '' activities. This is the speech of Advocate Md. Abdul khaleque, Principal of Koijuri High School & College. We are lucky enough to join in the CCA activities.
Koijuri High school and College is one of the reputed institute at Shahzadpur upazila. This school is established in 1967. There are about 1130 Students are studding in the school but almost every year the school is affected by the flood and the teaching-learning activities are interrupted about one or one and half month.
In this regard CCA Project included the school as a CCA working school for year 2017 to 2021.
CCA Project has formed Green club, School child group and established an Oxygen bank in the school. Teachers of the school are very much interested to establish the school as a model institute regarding green, safe and climate change adaptive school in the Sirajgonj and also influence the students, community and other school within the Shahzapur Upazila for establishing green, safe and environment friendly school. In this regard, they have observed "International Disaster Risk Reduction'' Day at Koijuri Union.
School teacher's and student's dreamt that they will make themselves as a change maker of climate change adaptation process to reduce climate change impacts in school and community.
07. Project Name: Regional Program for Promoting Multi-Sectoral Approaches for Nutrition Smart Villages in Bangladesh, Nepal and India:
Project Duration: 1 September, 2018 to 30 August, 2020
Funding agency: welthungerhilfe and BMZ
Beneficiaries:
In Bangladesh the project is Messra & Kalia Horipur Unions of Sirajganj Sadar Upazila under Sirajganj District. 30 villages will be transformed into Nutrition Smart Villages. The project is covering 6368 households with a population of 29,353. 3450 in the age group of 15-49 years and 24,00 children in the age group of 0-5 years is benefiting from the participatory learning and action cycles and agricultural demonstrations, improved care practices leading to improvements in nutrition, dietary diversity, hygiene and health. 30 village level extension workers, from agriculture, health & nutrition and WASH will be trained to practice LANN+. The extension workers, will be advocating and pushing forward a better multi-sectoral integration and convergence of government development programmes with regards to nutrition at local level. 30 higher level government staff, political representatives at sub district, district and national level will be sensitized on the importance of the multi-sectoral approach to fight against hunger and malnutrition through better integration between agriculture, nutrition and WASH interventions. The 30 villages belong to the poorest and backward regions of the country.
Covered area:
10 Villages in Kalia Haripur and 20 Villages in Mesra Union under Sirajganj Sadar Upazila of Sirajganj district.
Overall objective (Impact):
To contribute to food and nutrition security (SDG 2) amongst women of reproductive age and young children from vulnerable and food insecure families in Nepal, Bangladesh and India.
Project purpose (Outcome):
Scale up cost-effective evidence based, sustainable nutrition-specific and nutrition-sensitive interventions for all, with focus on women and children.
Increase human and institutional capacity to manage nutrition programs at national and sub-national level.
Solicit high level political commitment to improve nutrition governance, strengthen programme planning, and implement multi-sectoral policies and plans addressing all determinants of under nutrition.
Increase effectiveness and accountability of stakeholder's implementing nutrition interventions through a coherent monitoring framework, reporting and knowledge management system.
Major activities are;
Baseline-Study
Adjustment of LANN+ approach to a counseling approach reflecting the local situation
"Training of Trainers (ToTs)" of NGO staff and government master trainers in LANN+ PLA- methodology
Implementation of PLA-cycles with local population in 260 villages
Support of government authorities in running nutrition camps enabeling children suffering from malnutrition to recover.
Support of Farmer Field Schools
Development of integrated cropping systems
Support in installing nutrition-gardens for families with undernourished children
Strengthening of community institutions for improved monitoring of the nutritional situation
Development of nutrition-sensitive and climate friendly micro-plans and support in implementing pilot projects in WASH
Establishment of collaborative bodies on district- and sub-district-level for government and civil society in order to improve nutrition sensitive micro-planning
Establishment of a regional platform for civil society organisations to promote knowledge exchange, transfer of best practices and Advocacy on national and SAARC level
Implementation of Advocacy-Workshops on local and national level
Planning and review workshops
Final evaluation
Expected Change/Result:
Result 1: Knowledge, awareness and practices of extension workers and relevant authorities as well as target households on diet diversity, maternal-child care, nutrition sensitive agriculture and WASH are improved.
Result 2: Improved availability of diverse foodstuffs for households, particularilly for women and children by fostering nutrition-sensitive and climate friendly agriculture
Result 3: Community based organizations, village level institutions and local government bodies in target areas are capacitated to access government programmes and entitlements
Result 4: Enhanced access of government and development actors to data, evidence, information and knowledge on replicable models to guide multi-sectoral programming towards better nutrition.
Stakeholders:
15 to 49 years age women.
Under 05 Children.
Parents/Care Giver of under 5 children.
Marginal Farmers.
extension worker from the department of Health, Family Planning, Agriculture, Fisheries and Livestock.
Higher Govt. official from the department of Health, Family Planning, Agriculture, Fisheries and Livestock.
UP standing committee on Education, Health and Family Planning.
UP standing committee on WASH.
UP standing committee on Agriculture, Fisheries and Livestock.
Union Parishad.
People with special need