Manab Mukti Sangstha (MMS) is a local level NGO established in 1984 at Rahaimandalbhog in Sthal Char of Chowhali Upazila under Sirajgonj District with a view to "see a society free from poverty, discrimination and risk of natural disasters'. The organization obtained registration from the Department of Social Services in 1984 and the NGO Affairs Bureau in 1990.
MMS is currently working in Sirajganj, Tangail and Pabna Districts, the most disaster prone and poverty stricken areas in the northern part of Bangladesh. The people of these areas are backward, victimized and vulnerable by natural disasters like river erosion, flood, drought, cold wave and tornado. Most of the people are passing their lives under poverty line due to lack of employment opportunity, low income and inadequate services. They do not have ability to meet their basic needs. About 30% of population is living in chronic poverty (extreme poverty) situation and staying out of mainstream development interventions where poverty has been increasing day by day.
Considering the situation of the area present Chief Executive Mr. Habibullah Bahar along with other like minded enthusiastic fellows established the organization named as "Manab Mukti Sangstha (MMS)" in Bengali the term means freedom of human being i.e. free from poverty, discrimination and risk of natural disasters.
MMS started field operations in 1985 with its own resources, and implemented different types of development projects according to the needs of the community.
Since then, the organization has been continuing to respond very broadly to both of the community, and to funding interests of donors, the result of which is now a wide range of diversified activities/projects spread over 3 districts covering 13 upazilas, 99 unions and 2117 villages.
Currently around 162172 families are being benefited from various ongoing projects. A total of 302 staffs and 200 skilled volunteers are engaged in implementation of those projects.
MMS has been working for the last two decades and has earned a good reputation within the community, local administration, funding agencies and other stakeholders at local, national and international level.
Vision
Poverty and discrimination free society where people will have adequate capacity to protect themselves from vulnerability of natural disasters.
Mission statement
MMS aims to create a positive change in the living standard of distressed and disadvantaged community by increasing their access to basic services and local resources. MMS emphasizes on reducing gender discrimination and domestic violence through change makers' enrollment and campaign.
With a view to consider the local geographical context, the organization is giving priority to enhance actions against affect of disaster risk reduction and climate change and implement various development projects towards empowerment of ultra poor, poor, ethnic community and other marginalized people.
MMS also determines to achieve its vision by continuous attempts along with competent manpower, adequate logistics, limited resources and well acceptance to wider community, local administration, funding agencies and other potential stakeholders.
Objectives
The objectives of MMS has been set considering its vision, mission and other cross cutting issues like gender, disaster and climate change. These objectives also link MDG, and national sectoral objectives and agenda. The objectives are as follows:.
To develop institutions by increasing capacity of groups, CBOs, federations, alliance as well as organizations.
To increase literacy and awareness in society through Early Child Care Development and Non-Formal Primary Education.
To reduce gender discrimination and domestic violence through mass campaign and social mobilization.
To reduce vulnerability through disaster risk reduction and climate change adaptation.
To develop human resources both at community and organization level through capacity building and life skills training.
To reduce food insecurity and support economic empowerment process through eco-friendly agriculture, livestock and other off farm activities.
To strengthen governance at all level by people's participation, as well as increase access to justice and local resources.
To improve health and hygiene status of the people through primary health care, water and sanitation facilities.
To increase income and employment opportunity by providing capital and technical assistance.
Core Principles
Sustainable development
People's participation
Transparency and accountability
Gender sensitivity
Integrity
Strategic issue (Thematic Area)
Group formation and institution building
Climate change & disaster risk reduction
Agriculture and livestock
Health and Nutrition
Water and Sanitation
Women Empowerment
Education & Human Resource Development
Income Generation and Employment Creation
Acid Survivors and Persons with Disabilities Development
Target beneficiaries
MMS gives priority to work with women and disadvantaged people and gives emphasis on participation of children and elderly people. The details are as follows.
Primary stakeholders
Ultra Poor/hardcore poor/poorest of the poor(specially women)
Poor and marginal farmers
Day laborer, Rickshaw puller, Fishermen, petty and small traders
Children, disable and acid survivors
Ethnic community/minorities
Char and lowland dwellers
Secondary stakeholders
UP, UzDMC, UDMC, VDC, CBOs and other social elites
Local government, local administration, local, national and international NGOs, civil societies and other development agencies, development activists and organization.
Working areas
MMS is mainly working in disaster prone and poverty stricken area covering-specially the victims of river bank erosion, flood, people of Chalan Beel area where severe food insecurity and unemployment exist. Find below the present MMS working area:
| | | | | |
| --- | --- | --- | --- | --- |
| District | Upazila | Unions | Municipality | Villages |
| Sirajgonj | 09 | 82 | 04 | 2106 |
| Pabna | 01 | 08 | 0 | 45 |
| Tangail | 03 | 08 | 0 | 30 |
| Total | 13 | 98 | 04 | 2181 |
Beneficiary Coverage
MMS specially works with hardcore poor, poor and marginal farmers' community in which 5% may overlap with other projects' beneficiaries, which may be occurred within the organization where same beneficiary gets benefits from two different projects/programmes but not similar supports. In most of the cases it complements each other. For exampleif V2R raises homestead then REECALL will provide seed supports for vegetable cultivation.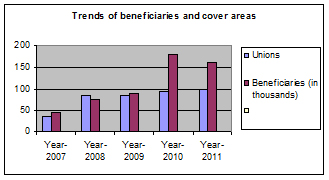 Present Beneficiary Coverage (at a glance):
Total: 162,172
Female :96,014
Male :36,150
Children :30,000
Staff profile:
MMS has skilled and dedicated staff who are implementing various development projects/programme by their hard labor and utmost sincerity.
Please find below MMS staff profile at different tiers:
Total staff
: 407
Male
: 295
Female
: 112
Management skills
: 24
Core management
: 7
Project heads
: 17
Technical staff
: 36
Agriculturist
: 6
Diploma in Agriculture
: 13
Doctors in Veterinary Medicine (DVM)
: 2
Civil engineering
: 15
Finance, admin, HR and logistic
: 15
Microfinance
: 82
Disaster management and climate change
: 85
MMS Organogram